Soldered On You
PERMANENT JEWELLERY
Eyes On You Co has introduced a worthy and unique experience
14k filled & solid gold permanent jewellery Soldered On You, customised with your choice of charms. Silver options in stainless steel also available.
EVENTS
Want to book permanent jewellery for your event? We come to you!
Email us on hello@eyesonyouco.com to organise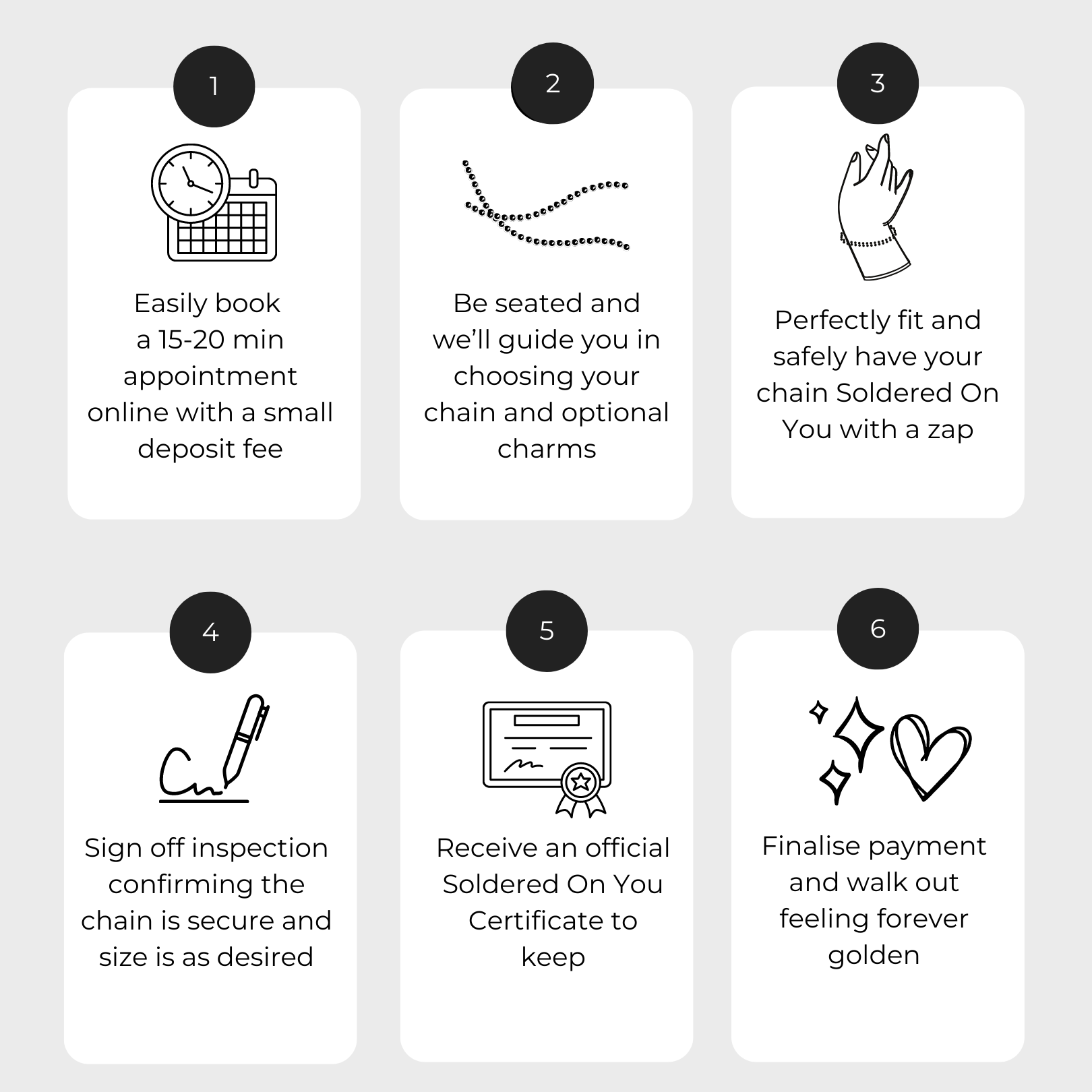 Prices

14k gold filled and stainless steel bracelets
$90 - $110
14k gold filled and stainless steel anklets
$100 - $120
14k/ 18k solid gold bracelets and anklets
Start from $150 measured per cm/gram
Add a charms
$20
Yes welding is safe, our friendly staff are highly trained with our machines and protection from the zap is provided just in case. 
If necessary, your permanent jewellery can be easily removed by using scissors, nail clippers, or cutting pliers! Make sure you keep your chain as we can reattach it for you for a reattachment fee of $15.
From personal experience, permanent jewellery will not set off metal detectors as they are delicate chains. For MRI scans and surgeries, please consult with your doctor or specialist prior.
We take walk-ins at our pop ups as long as we don't have bookings at the time of your arrival. We are also gratefully sold out a lot of the days, but we try to fit walk-ins when we can!
Have a question we haven't answered? Email us at Hello@eyesonyouco.com
DEPOSIT
A small fee of $20 must be paid in order to secure your booking! This is deducted from your final purchase amount on the day.
Please keep in mind that we have limited pop ups and time slots, therefore all bookings MUST include a purchase of a Soldered On You Permanent jewellery with no change of mind.
CANCELLATIONS
Deposits are non refundable. Rescheduling is only accepted 24 hours prior to appointments.
WARRANTY
We offer a complementary 6 month warranty that covers unfortunate chain breakages. Simply send us a pic of your broken chain, we'll book you in for a repair! Please bring your chain with you as we will weld it back on.